Calvert Wrestling Competes in Patriot Classic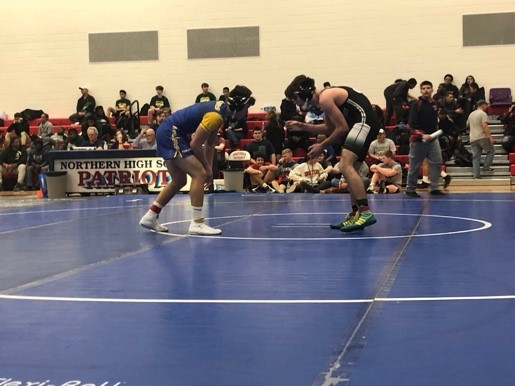 On January 4 and 5, 2019, Calvert High School Varsity Wrestling entered the Patriot Classic, a two-day double-elimination tournament. 
The team entered the new Northern High School Gymnasium with seven wrestlers: freshmen Austin Finley, Kole Green, and Liam Koppers, sophomore Tim Hall, and juniors Mark Maldonado, Kyle Joy and captain Matthew Davis.  
Day one of the tournament, Calvert went straight into round one. Davis won his first match with a pin, joined by Maldonado.  They two immediately entered their second round where Davis clenched a second win to secure his spot in the semi-finals, and Maldonado was pinned to return on Saturday for his round two wrestle-back. The remaining team finished round one with losses and would return on Saturday, day two, for the wrestle-back, round two. 
On day two, Finley, Koppers, and Joy were unable to grasp an upper-hand and were eliminated from the tournament. Maldonado lost his final match and was also eliminated. Green won his day-two wrestle-back after a full six-minute match and moved on to round three of wrestle-backs. Davis won with a pin in his semi-final match and moved on to compete in the 138-weight class championship. Green was eliminated from the Classic following his loss in round three.  
Davis returned at 6:00pm Saturday and wrestled for the 138-class championship against Broadneck High School. After a 00:01:09 match, Davis pinned his opponent and was named Patriot Classic 138 weight Champion.  
The wrestling team has had a rough season so far, without a team win to record, though not due to lack of talent or potential. With only eight eligible team members, weight classes have gone unfilled forcing Calvert to forfeit.  
Calvert has faced and overcome many obstacles this season, their returning talent (juniors Matthew Davis and Mark Maldonado) and coaching (Mr. Matt Bancroft and Mr. Mike Free) have been assets to individual successes. Freshman Sam Green said, "Calvert wrestling alumni, Andrew Jones and Isaiah Buck, helping out with practice has helped a lot."  
Head-coach Bancroft sees potential. "For halfway through the season, I'm impressed with the progression of the team. Some who've never wrestled before… they're giving it all they have and that's the best we can do," said Bancroft. 
Varsity Wrestling's future in the 2019-2020 season looks bright, with the promise of experience and, hopefully, new freshmen team members. As of now, the team gives all their effort to get through the season learning and improving, making the 2019-2020 a successful season.