CHS Girls LAX Finishes Rebuilding Year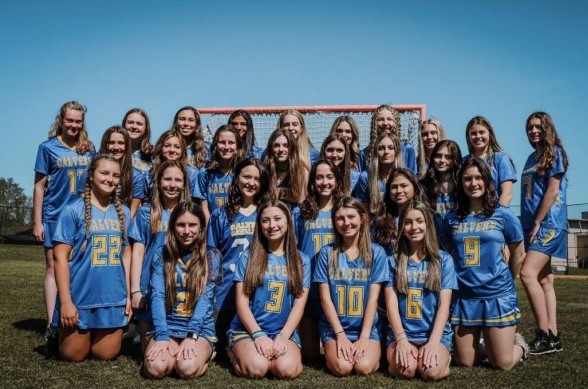 CHS lacrosse finished the 2022 season with 8 wins and 5 losses. As a young team, they have witnessed a lot of growth together.
Their best and most competitive game was played against Patuxent High School. The team showed great determination throughout, especially when they face sudden death overtime for the first time. Their attitudes as they stepped up and defeated PHS 19-18.
Like other Calvert County teams, numbers were down within the lacrosse program, following the lost seasons during the pandemic. Each of the team members took the initiative to recruit players from other fall and winter sports teams, many of which never played lacrosse before. The coaching staff was excited to see the development.
The team this year was very young, with mostly talented freshmen and sophomores. With only two seniors, the team has struggled to show up with the experience necessary to compete at a high level, but the underclassmen showed up for the occasion.
The lack of experience was one of the biggest hurdles that Lacrosse had to face this season, but the athleticism and discipline that they gained in other sports made the difference in their performance. Although this was important, the priority of other sports also occasionally caused a scheduling conflict with lacrosse, making their numbers even lower.
"The team has continued to improve. We tried to develop situational practices to prepare the players and enhance their lacrosse IQ," said coach Keith Hicks. "The girls responded well. They continued to ask questions, which was good."
For senior Abi Howerton, in her fourth year on the team, a favorite memory was scoring her first goal. As a newer player, the love and support that she felt from the team after was incredible. "Scoring that goal was a perfect way to close the regular season because it felt like everything I I had worked for finally came to me," said Howerton. "I am so grateful to have had coaches that wanted nothing but for me to succeed and the season really showed me that my hard work pays off."
Although the season ended sooner than the team had hoped, they accomplished their overall goal of playing each game with a positive attitude, executing their skills, and having fun.