CHS Theatre Is Ready to Open the Curtains with "She Kills Monsters"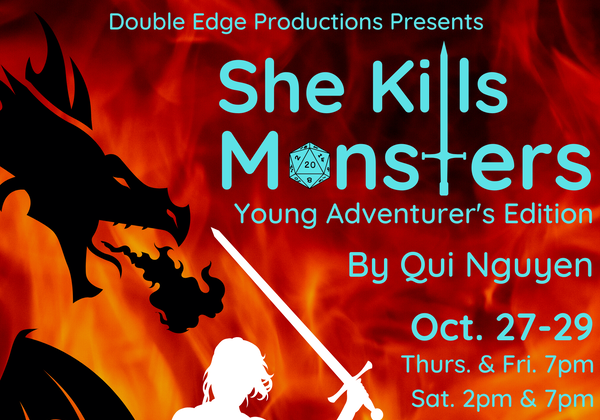 Anyone near the CHS auditorium recently may have noticed some set construction taking place, or perhaps a few swords lying around. That is because behind the scenes, students are prepping to kill some monsters this Halloween weekend. 
CHS's theatre company, Double Edge Productions, is presenting its first public performance of the year on October 27-29 at 7:00 pm and October 29 at 2:00 pm. Entitled "She Kills Monsters," the dramatic comedy tells a story of adventure, grief, acceptance, and newfound courage. While trying to explore the life she missed in her deceased little sister, the main character finds herself pulled into the epic world of a Dungeons and Dragons game. Some semi-graphic deaths can be expected, along with plenty of jokes and 90's pop culture. 
The cast and crew have been working long hours since the beginning of the school year to make all aspects of the show come together. Freshman Makaela Clark said, "It takes time to nail everything down, such as lines, cues, and more." 
"It's a lot of fun and a lot of work!" said sophomore Fiona Woodland. 
"In my opinion, performing in a show is just as hard playing a sport," said senior Faith Humphreys. "We dedicate all of our time outside of schoolwork to shows like this one. Acting is a lot of fun, but there are definitely days when we work like crazy to put on the best show possible." 
Some of this work includes elaborate choreography called 'stage fighting' for the epic battle scenes of this action-packed play. 
"I feel like I've learned a lot from this show, but one of the biggest things is being able to jump out of my comfort zone," said junior Jillian Fluharty, who plays lead role Tilly Evans. "This show has a lot of action, which I'm not really used to. But it has been so fun to be able to push myself and try new things." 
The play has some deep emotional value, including mature subject matter such as bullying, homophobia, and dealing with a death in the family. Double Edge Productions director Mrs. Stephanie Thom expressed that she hopes these themes teach her student actors to "get to know people on a deeper level to really understand them." 
Humphreys said that though the subjects can be difficult to act out at times, she is glad they are present, as they represent real issues that should be discussed and displayed to audiences. 
Through their work with this show, the actors have forged strong bonds with each other and built a community. "My favorite part of participating is getting to work with everyone behind the scenes," said junior Trevor MacWilliams. 
Woodland said, "Everyone is so kind and supportive, ready to listen and help." 
"There is a family created each year. Everyone is so welcoming… even if it's only your first year," said Fluharty. 
"My favorite part by far is the connections I've made with the cast and crew," said junior Joseph Lennon. "Also, being able to do what I've always wanted to do, which is make people laugh." Lennon plays the role of the Great Mage Steve, a certainly entertaining character who presents a comic relief audiences will be sure to love. 
Some actors have said they relate to certain characters of the play. Woodland relates to the personality of D&D geek and level 20 Paladin Tilly Evans (Jillian Fluharty), while Lennon enjoys watching the same 90's shows as the (former) Overlord of the Underworld Orcus (senior Ryder Russell). 
Mrs. Thom said, "I love all the different personalities and ideas. These kids are so amazingly talented and hardworking, and I absolutely love what they are bringing to their characters." 
If seeing some dynamic characters engage in heroic, hilarious battle sounds like fun, get tickets to see "She Kills Monsters" at calvert.booktix.com or at the door before the shows. Tickets are $8.00 for students and $12.00 for adults.