Females Forward in Engineering: Bridging the Gender Gap in STEM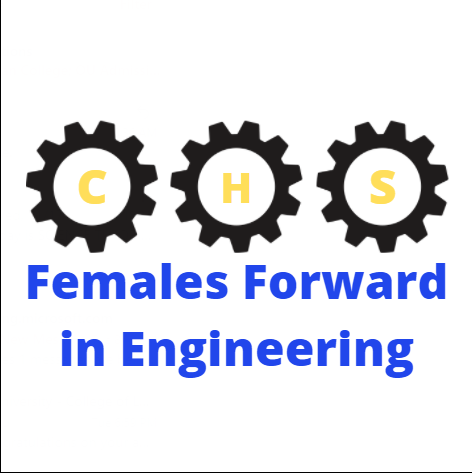 Recently, the rate of women going to college to pursue careers in engineering has begun to steadily increase. However, in comparison to men in the field, women are more likely to change their career goals entirely due to gender marginalization that occurs within internships, summer work opportunities, and team-based educational activities.  
What turns them away from engineering careers? While there are a variety of answers, men receiving more challenging tasks in comparison to female engineers tends to be the driving force. Because of this, only 13% of the field is made up of female engineers despite 20% of all engineering undergraduate degrees being earned by women (MIT News). This suppression of women in the engineering pathway has inspired people to start pushing for gender equality and fight against historic power imbalance in the workplace, and it has even made its way into the classroom. 
Females Forward in Engineering, a CHS organization working to close the gender gap in engineering, was started in 2015 by CHS teacher Mr. Marshall Pike to garner interest in Calvert's PLTW program. At the time, there were few female students enrolled in the program.  
Junior Mia Meredith, president of Calvert's 2021-2022 chapter of FFIE believes that the club brings together a community of students with an interest in engineering and is successful in amplifying their experience in STEM. "Our dedication and participation incites change in not only our school, but in our community as well," said Meredith. 
All students, even those who do not identify as female, who are interested in cultivating their interest in engineering and a career in STEM are encouraged to join. The club is focused on connecting with successful female engineers within the community and sharing their stories with students of all backgrounds.  
This year, members of FFIE will learn about robotics and renewable energy through the challenge of building solar powered robots, as well as working on other engineering-based problems and projects. To promote members to continue in the field beyond high school, the club will also be participating in virtual tours of different technical facilities to get a feel for how engineering is applied in various workplaces.  
Females Forward in Engineering meets in Mr. Pike's classroom (100) on Mondays, Wednesdays, and Fridays during A-lunch. FFIE members aim to ensure that beyond the classroom, all students interested in STEM have a solid foundation to launch their careers. Through FFIE, Calvert is bridging the gap between gender inequalities and promoting inclusivity in the community.