CHS Marching Band takes 2nd Place in State Championships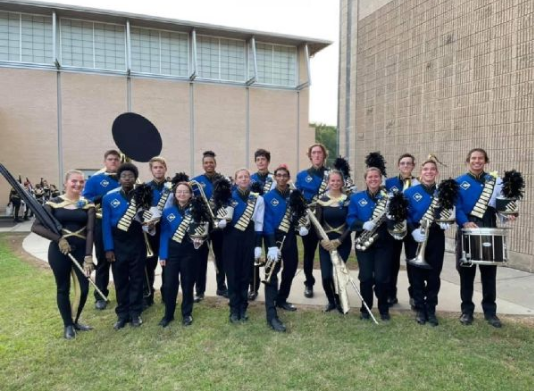 On October 23 the Calvert High School Marching Band traveled to the USBands 2021 State Championships at Calvert Hall College High School in Towson, MD. 
The competition is judged based on categories that include individual music, ensemble music, individual visual, music effect, visual effect, color guard, and percussion. For each category, a judge followed the band throughout the performance assessing individual performance or sat in the press box to assess the band as a whole. Each band was scored starting with a perfect 100 and had points deducted per mistake each judge saw or heard.  
At the end of the performance, the scores are calculated specific to each of the seven categories to decide a content score, representing demand of each student, and achievement score, representing how well the band achieved what was asked of them. Ideally these scores will be very close, representing that the band met the challenge that was presented to them. 
At the competition, each of the thirteen competing bands were divided into categories based on the size and scoring of the band. Placement at the state competition is based on the scores in each category, and the highest score wins.  
This year, Calvert High School competed against other high schools in the county, including Northern High School and Patuxent High School. Northern took first place, Calvert took second place, and Patuxent took third place. 
The CHS marching band performed a very difficult show this year, while others scaled back their shows due to the effects of COVID-19. Many students had little opportunity to hone their skills, so Marching Band Director, Mr. Derek Dillman, took a risk introducing such a difficult show. This year the CHS marching band had 18 new members following heavy recruitment efforts throughout the off season, that included two eighth graders from Southern Middle School.  
"If you are someone out there who has ever wanted to spin and toss a flag, you know how to play an instrument, or you just have had the desire to do something in the marching band, we have a place for you," said Dillman. "Band is a place for everyone and if you have the drive, I promise you that it will be one of the hardest, most fun, and most rewarding things you will ever do." 
The recruitment efforts will continue through this year, in hopes of winning another state or national title in the coming years to represent the talents of the CHS Music Departments.