Calvert High Has Spirit!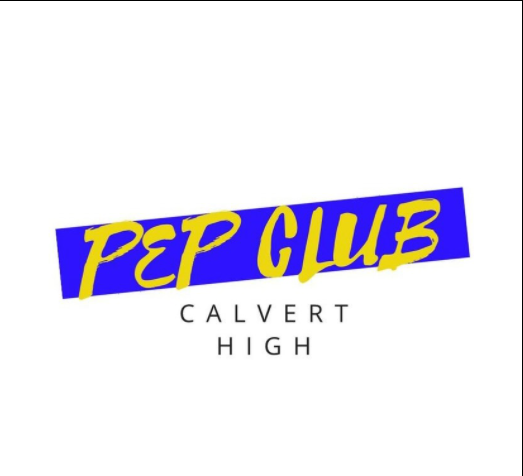 High school can be a time filled with stress and anxiety due to upcoming tests, exhaustion from early mornings, and sleep-deprivation from late night study sessions. Amid the craziness that comes with student life in and outside of the classroom, many students value connecting with their peers and making their four years meaningful. Last year, students missed the chance to strengthen those connections due to online learning during a pandemic. For many students, having this school year be in-person means getting a second chance to indulge in memorable school-wide events. 
Calvert High's Pep Club, a group working to boost student morale, began this year with CHS teacher Ms. Rachel Ellison as the club sponsor. The club was founded on the belief that there needed to be a way for students to be at the forefront of inspiring their peers to get involved and excited about school-wide events. The club's senior representatives Kevin Duffy, Joey Mattivi, Ava Jabara, Abby Tyndall, Olivia Ellison, and Jessi Trilli have worked to make events such as home games, spirit week, and pep rally more representative of the student body than ever before. 
"Pep Club is great because you get to be a part of a group that works directly for the students," said Tyndall. "We want to encourage students to have more school spirit and make them happy in everything we do." 
For many students, the club's efforts have not been in vain. So far, Calvert's Pep Club has worked diligently during and after the school day to create banners and gather decorations to fit each home game theme. The club has even collaborated with other organizations such as NJROTC and Calvert's Cheerleaders to paint banners for themes such as the Beach Bash, and Friday Nights and Neon Lights. Pep Club has also strived to reach out to Calvert's community outside of CHS with Friday, September 24's Goldrush theme dedicated to fighting against pediatric cancer. 
For the members, Pep Club is just getting started. On September 26, the club announced the themes for the upcoming spirit week. On Monday, October 18, the student body will dress like their favorite movie character. On Tuesday, students will either dress like they are out of this world or down to earth. Wednesday will be our annual Class Color Day where freshmen will wear purple, sophomores will wear orange, juniors will wear green, and seniors will wear pink. On Thursday, students will dress like their future selves or career paths. Finally, on Friday, the entire student body will come together and wear blue and gold for the Pep Rally. 
Like home football games and spirit week, Pep Rally will also get a fresh look this year. Senior Olivia Ellison is in charge of revamping our upcoming Pep Rally. "We are trying to make the student body excited to participate in their school community," said Ellison. "As the lead on the pep rally, I really tried to make it about the entire student body and not just the athletes while still honoring our athletes' hard work. I'm really excited for our plans and hope that the students will be just as excited when they hear about it."  
Pep Club is comprised of several student chairpersons, with each event having an assigned chair, co-chair, secretary, advertiser, and committee. Pep Club members are expected to share a common goal of uplifting the school, perpetuating school spirit, and genuinely being the best leaders that they can be. 
"Being in Pep Club means so much to me, especially as a senior," said Trilli. "I absolutely love being behind all the decisions about themes for games, pep rally, and spirit week! It is the best experience ever and everyone in the club has amazing creativity and love for school spirit." 
Pep Club meets every day during A-lunch in Ms. Ellison's classroom (room 310). During those meetings, they work on creating banners and themes, and it is even a space in which members can go to hang out and socialize with their friends, emphasizing their goal of building connections within our community.