CHS Presents: The First Freshman Olympics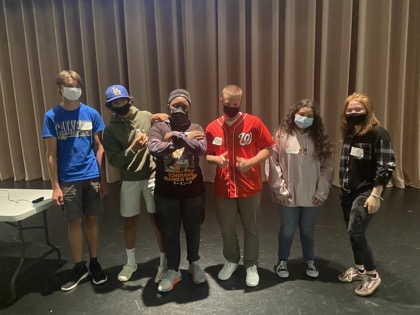 As CHS students re-adapt to life in school, teachers, administration, and upperclassmen are working hard to make the transition as smooth as possible. In hopes of assisting with this transition, freshman students were required to spend B-lunch in their homeroom classroom to get information, build community, and meet new people.  
Since incoming freshman students were last in school during their seventh-grade year, many activities have been planned and executed to encourage participation in school activities. In addition to information sessions assistant principal Ms. Cathy Sutton, with the help of some student leaders planned "The Freshman Olympics." 
These "Olympic" games were a series of four Monday's and Wednesday's where each freshman homeroom class played games and completed puzzles to win a class prize of a pizza or ice cream party.  
On Monday September 20 freshmen, with the help of a few Student Leaders who ran the activities, played a game where they guessed movie titles using a series of emojis. Students also played Mad Gab, where they used a series of unrelated words to decode a message. Ms. Lauren Robison's homeroom took first place. 
Next, on Wednesday September 22, freshmen students played Minute-to-Win-it, with a series of five games being played in order to win points. The games included Flip-the-Cup, Chop Stick Challenge, Cup Stack, Cookie Face, and Drop Cup. Ms. Robison's homeroom class stays in first place.  
The following week, Monday September 27, the students participated in a scavenger hunt, using a decoding key and scrambled words to find numerous locations in the building. Students made a stop at a math classroom, the athletic Hall of Fame, the media center, and the Blue Rock located in the courtyard.  
On Wednesday September 29, with Robison's homeroom still in the lead, all freshman students filtered into the auditorium to watch a representative from each homeroom participate in a game of Family Feud. With Principal Mr. Darrel Prioleau playing the role of Steve Harvey, students competed using answers they submitted earlier in the week. Freshman Liron Frieson won the game for Ms. Alexandra Gandy's homeroom class, moving them up the leaderboard.  
"During the freshman Olympics it was interesting to see classmates participate. It was unique to Calvert High School, and a fun experience," said freshman Jacqueline Mancini.  
The winner of the freshman Olympics, and the pizza or ice cream party, is Ms. Robison's homeroom. The success of this event ensures that Calvert High will continue this tradition in future years, with hopes of unifying the student body and encouraging positive participation.