Calvert High Girls Are Destined for Success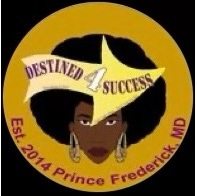 Throughout history, the public continues to stand up for their beliefs and fight for equity and equality for all globally marginalized groups of people. At the forefront of protests against social injustice, we have seen African American women like Josephine Baker, Daisy Bates, Shirley Chisholm, and countless other heroes lead the way for change.  
Before these courageous women could make impactful contributions to society and challenge oppressive systems for all underrepresented minorities, they had to learn to find their voice. For black women especially, it can be hard to find that voice because exceedingly early on in childhood they are often exposed to suppressive comments claiming that they are too "bossy, sassy, and loud" to be successful leaders. This has often led to an overall negative connotation that young black women have associated with leadership, especially in the classroom where they tend to hear degrading comments the most. 
Destined for Success, a club at Calvert High School, focuses on social and emotional wellbeing as well as leadership, was started in 2014 by former CHS teacher Ms. Juanita White, CHS alumni Ms. Rhonda Thomas and Ms. Cynthia Thorne-Carter, and CHS registrar Ms. Sherri Barber. The club was founded on the fact that there needed to be experiences and activities that young African American ladies could enjoy and connect to. The group of ninth through eleventh graders receive enriching content focused on scholarship, service, talents, culture, and motivation, building a community of like-minded African American young women because of their efforts. 
Junior Kendyl Hawkins, President of Calvert's 2021-2022 Chapter of Destined for Success, believes that the club accomplishes their goal of opening the doors of opportunity for young African American women at CHS. "Being president of D4S means getting to be involved in helping young women of color succeed," said Hawkins. "Seeing them thrive in a world that doesn't want to see them succeed is one of my goals in life. It means the world to me." 
Destined for Success values authentic connections and limits their membership to 20-25 participants in order to truly spend time with each of their members and meet their needs. Because of this, the club is notorious for being a tight-knit community. "Our group is wholesome and welcoming," said senior Laila Brown, Vice-President of D4S. "At the same time, we are a family and do not judge each other. We want the best for our students, and we strive to be there for them every step of the way." 
They have been able to accommodate their students by inviting speakers to come talk to the members about visualizing their futures, assisting them with their college search, offering scholarship opportunities, helping them with their resumés, providing them with interviewing techniques, teaching them how to become entrepreneurs, giving them a safe space to talk about mental health and much more. Members are taken on college and museum visits. Throughout the year, they actively raise funds for various charities as well. 
For the past seven years, the group has sponsored Black History Month trivia on the morning announcements and has put together a spectacular Black History Month art gallery display for the school to visit in the atrium during the month of February. This year, they plan on keeping the tradition alive. D4S members aim to empower young women of color at Calvert despite suppressive societal standards and create new means to be authentically themselves, rewriting the narrative and claiming their role as destined leaders in our school. 
Destined for Success will meet outside every second and fourth Thursday of each month during both lunches. If you are interested in joining, please contact Ms. Barber in guidance.