CHS Leaders Create New and Engaging Advisory Lessons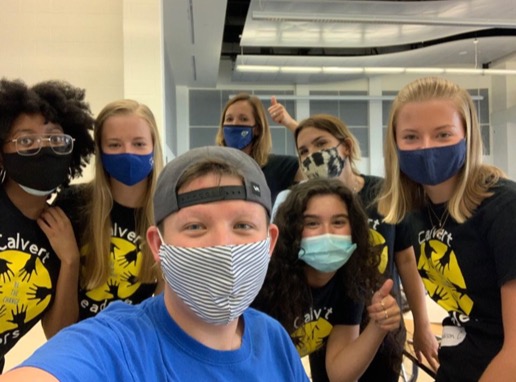 Upon the conclusion of the 2020-2021 school year, Calvert High School's Student Leader Senior Panel began their work on the upcoming year's advisory program. Through countless meetings, discussions, problems, and solutions, the panel of seven seniors, with the help of Assistant Principal, Ms. Cathy Sutton, constructed their own curriculum to encourage students to exhibit the "Cavs Care" traits.  
Recently implemented, the "Cavs Care" traits (Community, Academics, Responsibility, and Empathy) are intended to empower students to reach their full potential as students and people. In previous years, curriculums such as Believe in You and Character Strong had provided pre-made lessons for the Cav Student Leaders to present during the advisory period once weekly or monthly. Although these programs were effective, students have found it difficult to relate to the lessons. In response to this concern, the Student Leaders decided to create their own curriculum for advisory this year.  
In efforts to create a community within CHS, Student Leaders have decided to include the clubs and organizations in the planning and creation of every month's advisory lesson in order to encourage further community building within the school community. 
For the first advisory of this year, senior LaNaiah Frieson has put together a lesson entitled, "Welcome Home, Cavs: You're Never Alone," that will feature both theatre students and student leaders in a video message to students.  
"This year, advisory is getting a whole new look. I'm super excited to be kicking off the school year with a lesson curated by students for students," said Frieson. "Giving students a platform to use their voice and advocate for topics they are passionate about is something I have strived to do since my freshman year, and I intend to use this opportunity to do just that." 
With this intention in mind, the advisory leaders are excited to share their lessons and activities on the following dates: 
September: "Welcome Home, Cavs"      Tuesday 9/25/21         First Period 
October: "Community Building"            Tuesday 10/19/21       Second Period 
November: "Gratitude"                           Tuesday 11/16/21       Third Period 
December: "Cultural Appreciation"        Tuesday 12/14/21        Fourth Period 
January: "Goal Getting"                          Tuesday 1/11/22          Fifth Period 
February: "African American History"  Tuesday 2/15/22           Sixth Period 
March: "Women's History"                    Tuesday 3/8/22            Seventh Period 
April: "Love All People"                        Tuesday 4/5/22            Eighth Period 
May: "Mental Health Awareness"          Tuesday 5/10/22          First Period 
The student leaders, who will be teaching advisory lessons, are paired with the same teacher all year, however their group of students will rotate monthly. Advisory will rotate class periods every month, as listed above, for three reasons.  
First, to ensure that CTA students, and those with late arrival or early release will have the opportunity to experience at least three of the lessons. Second, it was important to make sure that advisory had the time it deserved, without taking class time away from the same period every month. Finally, the student leaders wanted to minimize confusion and leave the day-to-day bell schedule in place.  
Ms. Sutton and the Cav Student Leaders are looking forward to getting to know so many new students this year, and hope to reach as many as possible with encouragement and tools to help them navigate their high school careers.