Reflecting on the 2020 Spring Athletic Season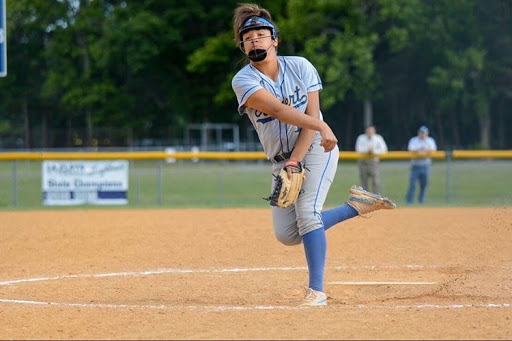 After only two full weeks of practice, the spring athletic season has come to a disappointing and sudden halt. The impact of Covid-19 has swept the country and has caused many distressing, yet necessary, cancellations.  
As an active student-athlete, I was upset to lose the opportunity to play softball this year. Bonding with my team and practicing with my friends is the highlight of my school year. The season is something to which I always look forward.  
The Calvert High softball team was not able to play any scrimmages or compete in any season openers. The team has invested in many new amenities this year to improve the program, including a new batting cage, bullpen, practice jerseys, and varsity uniforms. The team also planned on hosting an Autism Awareness game and inviting sponsors and guests from the school and community to participate. Not being able to use these new ideas and pieces of equipment is disappointing.  
This year, the softball team has ten players graduating who will miss their anticipated senior season and game. After nights in the cold selling Krispy-Kreams, and running a softball clinic for young and aspiring softball players, the seniors will also miss the new uniforms for which they fundraised for the duration of their high school careers. There is nothing the seniors have looked forward to more. Though I am not a senior, I am devastated for my teammates and am saddened that their opportunity to be recognized has been taken. Senior and four-year varsity player, Camryne Free, is sad the season has been put on hold. 
"This has affected me tremendously because softball is more than a game to me, it's a family. Not being with the people you love everyday hurts," said Free.  
The effects of Coronavirus are making an impact on the world and the events that were planned. The class of 2020 was optimistic that this would be their season to be a very competitive team. Starters, consisting of mostly seniors, have been waiting for their chance to have a strong season. 
"The biggest disappointment for me is all the talent we have on our team. Ever since Freshman year, we have been the underdogs. Nobody thought that we could hang with the bigger schools because we are 2A. Every year we have lost to LaPlata in the playoffs but this year we had everything going our way. And I saw the dedication in everyone every day that we stepped on the field," said Free.  
The softball team remains optimistic and supportive of each other. Even though we are not allowed on the field, we still strive to be better by completing at–home 20-minute workouts and individual practice drills. We are staying in touch hoping we will be able to play again soon. 
Softball Coach, Ms. Lauren Robison, implemented a new team mantra this season: "Day in. Day out." We begin and end every practice by repeating these words to remember that it is not a punishment or a privilege to be on the field. Being able to play every day is an opportunity, and over the past few weeks, we have all learned never to take it for granted. We have all gained a new perspective. 
"I know that this will make us all better not only as softball players but as people," said Free,  "you never know when it could be over."