Spreading Holiday Cheer at the Helping Hands Food Pantry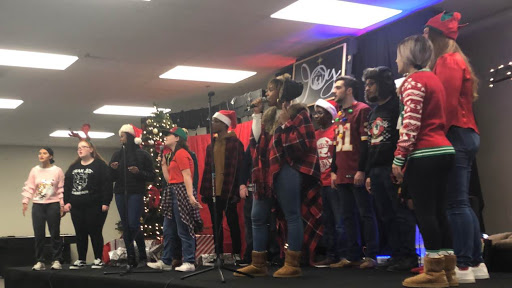 Helping Hands is a non-profit group that supplies and organizes a food pantry based in New Life Church. They serve families in the community every Monday from 4:30 pm-6:00 pm. A box of food and a hot meal are prepared and distributed to those who had signed up through the organization.  
The two-year-old non-profit organization offers services to those who need it with a safe place to share a meal, a conversation, and a prayer with the volunteers.  
On Monday, December 2, the Calvert High School Music Theatre and Chamber Choir groups traveled to New Life Church, Calvert, to perform a holiday concert at their food pantry. 
Their holiday selections were from their upcoming concert on December 12, including Amani, by Audry Snyder, Always Be my Baby, by Mariah Carey, Autumn Leaves, composed by Joseph Kosma with lyrics by Jacques Prévert, El Grillo, by Josquin des Prez, Silent Night, arranged by Ken Malucelli and Deke Sharon, If I ever Fall, by Shai, and an And Heaven and Nature Sing medley, arranged by Mrs. Kelly Combs.   
The concert concluded with the songs, Rocking Around the Christmas Tree, by Brenda Lee, and My Girl, by the Temptations, tribute to two audience members and weekly patrons at the pantry.  
Mrs. Kelly Combs began her career teaching general music at St. Leonard Elementary for one school year in 2003 and has been the Calvert High School Choir Director ever since, for a total of 17 years in the Calvert County Public School system. She finds joy in bringing music to others and teaching students how to appreciate it. This was an event that she has never done in her career as a teacher and was excited to do it.  
"It definitely made a difference for me, personally, to see how much joy can come from helping others," said Mrs. Combs "…my students were really impacted by being able to see beyond their own lives and see that other people may be facing challenges that aren't present in their own lives."  
The holiday concert brought joy and light to the children and adults who frequent the pantry, as well as the volunteers. During the concert, audience members sang and danced along with the choirs and putting a smile on the faces of all in attendance.  
A Music Theatre parent, Mrs. Anita Santoyo, brought the idea to Combs, who jumped on the opportunity to give back to the community. Through their joint effort, they were able to create, and bring something beautiful to those in need of Christmas cheer. 
A senior at Calvert High School, and four-year choir member, Sophia Santoyo, joined the choir in coordinating and performing at New Life Church.  
"For me the experience was great. Seeing my friends from choir enjoy bringing holiday cheer to those who come to the pantry for food filled my spirit with joy," said Santoyo. "It was truly a moment I'll never forget, and I'll always be thankful for it." 
The experience was unforgettable for all involved and important to the community, one that the Calvert High School Choirs hope to repeat in years to come.