Calvert High Science Teacher strives to make a difference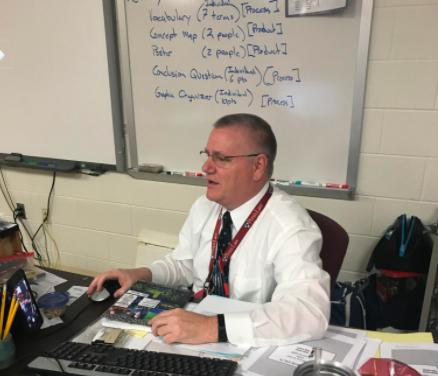 Stephen King's dream came true 29 years ago when he became a teacher. King is a science teacher at Calvert High School and has been in the county for 26 years. Students can actively engage in his classroom with different activities each day, whether it's reading, writing or eating an edible experiment. 
"Teaching is the best job in the world," King said. 
This past November, King was nominated by six of his students for changemakers, a CHS program that spotlights students and/or teachers who have made an impact in the school environment. 
"He is the most thoughtful teacher in this school," said Natalie Reardon, a senior. "He truly cares about each and every student." 
He chooses assignments and labs that follow his teaching style of using hands-on and multi-sensory tasks. In his interactive classroom, King uses any and all strategies to help students succeed, and has many resources available to students, especially technology. 
Lunchtime in King's classroom is also a bustling time. Every Tuesday during lunch, he hosts Chess Club. This club is open to all students who are interested in the game and can come and have fun. It gives students an opportunity to meet new people and develop critical thinking skills. When he is not hosting chess club, King considers lunch an extension of the work day. His classroom is open every day and students can come to work on assignments where access to all materials are available. 
King previously coached softball for five years in the county and goes to many CHS sporting events to support his students. Most importantly, King contributes his time and dedication to helping his students succeed and works very hard to engage his students in learning. 
"He is very dedicated to his work," said Katie Kotowski, CHS history teacher. "He is one of the first teachers to arrive in the morning … and is often one of the last teachers to leave late in the evening." 
King fosters relationships with students in order to establish trust. To engage a reluctant student, he gives them space and one-on-one time if they need it to keep them directed toward the lesson. 
"He is a very dynamic teacher," said Suzanne Kistler, CHS science teacher." … And he is a great team member in our science department." 
"The most important characteristic of a good teacher is trust," said King, "They don't care what you know, until they know what you care. With that philosophy, students will be willing to try. Connection is key." Furthermore, he explains that students can succeed and do anything they want as long as they are willing to try, and are determined and focused. 
King developed his love of teaching from his mother who was a teacher, and his father's passion for science. King received his master's degree in secondary educational technology at Towson University. He loves teaching because he can share his enthusiasm for science and influence his students to work hard and be successful in life. He is a stalwart supporter of the Calvert High community of students, parents and faculty. 
The writer is part of the Young Journalist Program in partnership with The Calvert Recorder and Calvert County Public Schools. This article was originally published in the Calvert Recorder on January 17, 2018.