Big changes for dance team this basketball season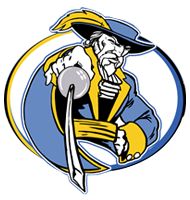 As Calvert High School's athletics and band step into basketball season, spectators should expect some major changes from the dance team. 
Head Coach Michelle Stover stepped down from her position due to family reasons, and Assistant Coach Payge Erly filled the position. Despite being new to the team and the position, Ms. Erly has enthusiastically and professionally led practice five days a week to prepare the squad for the halftime performances.  
On stepping in as Head Coach, Ms. Erly said, "I think it was hard just because obviously Ms. B [Stover] was an amazing coach and [the team] had such a great bond with her that I wasn't sure how I was going to fit in once she left, but now I've developed my own unique bond with [the girls] that was different from hers and that's what's great about it. It was hard, but totally worth it!" 
The fourteen-member team grew to sixteen members after tryouts, with many being first-time team members. Likewise, the presence of underclassmen grew on the team with numbers growing from three freshmen to six, as well as the addition of another sophomore.  
"It's pretty great. Everyone is very involved and helpful, and everybody makes sure you're okay and fitting in," first-time member freshman Aleya Wentz said.  
On Wednesday Dec 13, the girls performed for the first time this season, unveiling a new style the audience hasn't seen from them before. Their signature jazzy hip hop was accompanied by elements from ballroom dance and a fresh music selection with their "Kill the Lights/ Dem Beats" routine.  
"Something I'm looking forward to is all the creative things coach is going to come up with and being with the girls on the team. I'm just really happy to be here, I'm excited for all the new things I'm going to learn and everything I'm going to get to do," first-time member freshman Jaymirra Taylor said.  
The audience should also anticipate some crisp technical movements and more fast-beat routines later in the season.  
"I'm looking forward to seeing each girl improve in their own way. I don't ever really know if I'll ever see everyone on the exact same level- and I'm okay with that. Everyone has their own obstacle they're trying to overcome this year, and I'm looking forward to helping each of [the girls] overcome whatever that obstacle is," said Ms. Erly.  
With a wonderful first performance and high energy from the coach and girls alike, the team is off to an amazing start. Be sure to come out today, Friday Dec 14 to see the team's "Kill the Lights/ Dem Beats" routine, show support to fellow Cavaliers on the basketball team and listen to the great music from CHS's Pep Band.