NHS Seeks Applicants that Embody Service, Leadership, Scholarship, and Character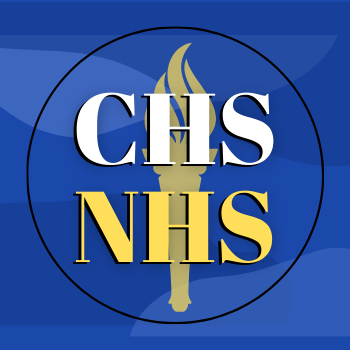 The National Honors Society is a national organization that was established to recognize outstanding high school students across the country. Beginning the last semester of their sophomore year, students who have a strong academic profile are invited to apply to the National Honors Society. 
After applying to NHS, students are chosen based on how well they embody the five founding pillars of the program recognized at Calvert High School. What distinguishes strong applicants from the rest of the pool? Students who are selected show a strong interest in community service, display effective leadership skills, prove their excellence in scholarship, have experience in building strong character, and seek out acquiring different mediums of knowledge for the benefit of those around them. 
In preparation for the upcoming application process for the 2022-2023 Chapter of NHS, Senior Officers will take over the CHS National Honors Society Instagram and Twitter for the week of March 28 through April 1 to educate students about how the NHS pillars are important to embody when cultivating the next leaders of Calvert High. For students looking to boost their chances of being accepted into the program, they should spend time focusing on the following characteristics: 
Service 
In their application, students should ensure that they demonstrate a strong interest in community service. A major requirement of the program is for every member to obtain a minimum of 28 community service hours before graduation, but effective leaders should strive to serve beyond the minimum requirement.  
Senior Tyler Seawell, President of the 2021-2022 Chapter of National Honors Society, believes that it is important for all students, regardless of their acceptance into the program, to strive to serve in the community.  
"Serving others is about more than just trying to get a certain number of hours on a paper, it is about seeking out opportunities and trying to make a difference in our school," said Seawell. "Serving opportunities, such as the peer tutoring program through NHS, allows students to not only get the help they need for their classes and college applications, but they get to also interact with colleagues they may not have normally talked to on a daily basis." 
Leadership 
Applicants should consider spending time to cultivate their leadership skills. Students who show themselves to be leaders in the classroom and in the community recognize their responsibility to honor their commitments, actively participate in school and outside commitments, take accountability for their actions, and inspire their peers to help others.  
As prospective members of the National Honors Society, applicants should strive to lead others and show their previous experience in leadership through extracurricular activities and strong letters of recommendation for consideration.  
Scholarship and Knowledge 
NHS members are expected to have an aptitude for learning and a commitment to indulging in different facets of information, skills, and perspectives that they can apply to their community. Becoming a scholar and a knowledgeable leader does not require a minimum GPA, but it does require effort.  
Senior Zachary Childress, Treasurer of the 2021-2022 Chapter of NHS, believes that all students looking to become scholars and knowledgeable leaders in the community should strive to take full advantage of the educational opportunities offered in school.  
"Scholarship is all about challenging yourself and bettering yourself through your education," said Childress. "To prepare, you can start your own club to bring together people who are interested in different topics just like you and take you to an extra step in your learning." 
Character 
In the program, members should expect to seek out building up both the character of others and themselves through their hard-work and dedication. Through service-focused extracurriculars and volunteer work, members sculpt their interests and build their values on perseverance, respect, integrity, honesty, and sacrifice. In more ways than one, members of NHS are recognized not because they are boastful about their achievements, but because they are impactful in their contributions to those around them.  
When applying, students should craft an essay that depicts how they embody those traits in the community to boost their chances of acceptance. "Choosing one or more of these traits to apply in your life is important when considering how you will treat others," said Shayla Singletary, Secretary of the 2021-2022 Chapter of NHS. 
By focusing on these pillars members have been able to navigate serving others beyond Calvert High School. Understanding the importance of service, leadership, scholarship, character, and knowledge has set students up to be successful leaders in the future and gives them the opportunity to make a difference in society. For more information on the National Honors Society, prospective members should contact the program's sponsor, Mr. David Redden.